WHAT HAPPENED THIS YEAR?
Has anyone had the best year of their life in 2020? If so, please share your methods with us! It's been a tough year for everyone and it's been marvelous to watch all of you adapt and respond to what needs to get done, the same way we practice in the gym each day. When we were shut down in May, we switched to an online delivery system, created the Resilience Challenge, started a "Push Play," channel on our YouTube, and no one complained. We loaned our equipment so you could keep up with the workouts and continue to get better despite less than optimal circumstances. You kept your memberships in tact so there'd be a gym to come back to when the dust settled. We cannot express how much we appreciated that on many levels, but mostly it validated the value of what we all are building as a community at The Standard. As a way of giving back, we partnered with The Community Coalition to provide gift codes and discounts through a number of brands to anyone who kept their membership through the shutdown. As we wind down the year, we partnered with them again, but even bigger than last time! There are significantly more brands involved with offers worth taking advantage of. This is a way for us to say thanks. Thanks for helping us endure the chaos and for continuing to trust us with your physical fitness and development, but also, thanks for sharing your lives with us, encouraging each other, and creating an atmosphere that is welcoming, friendly, and positive. I think we've all played a major role in that aspect and while I think coaching is important, that cleanliness matters, and programming has to be right— ultimately how it "feels," is the most important. You make that happen. Thanks.
So with all of that said, if you're getting this email, you've played a part in making The Standard what it is today, so you're invited to participate in the give-back campaign through the Community Coalition and The Standard. FOLLOW THIS LINK and save your hands, get double unders, buy clothes that fit better, use supplements (VITAMIN D helps COVID immunity, btw), and so much more. We appreciate you.
WHAT'S DECEMBER 2020 GOING TO LOOK LIKE?
The Fair Fight Champions will go head to head in the Fair Fight Invitational. Details are still being sorted out.
12/10 YOGA!! – Kayla K is going to be leading us through some really under-appreciated stretching and static strength poses on Thursdays at 7pm and Saturdays at 9a. CLASS NOTE: Typical 9a Open gym on Saturday will move to 8a with yoga to follow. She is offering these times on a donation basis, so bring a couple dollars to tip the teacher. 🙂
12/19 We'll be doing the Chaos of Christmas event again. This was a ton of fun last year and since there's so many new people around here, we figured we'd do it again! It's a killer workout! Team up with your gym equal and have a good time throwing down. Bonus points for dressing festively. 🙂
SO WHAT'S 2021 GOING TO LOOK LIKE FOR US?
Firstly, we have a new performance tracking, community-interaction centered, application we'll be rolling out. It's called Chalk-It and integrates perfectly with Level Method. Eventually LM and Chalk-It will be a single app, but for now, yes, we want you to download another app. Why? Because many of our people have divorced from Facebook and social media and we need an information delivery system that isn't as intrusive as texting, but is better than email. Chalk-It will let us send announcements, make video demonstrations, and so much more that will make your education and overall experience better here. Also, performance tracking is valuable! Sometimes you have no idea what your goal is for strict press sets of 5— now you can look at your history and have a range of expectation. You can post your score in the metcon and see how it stacks up with others that did a similar version of the workout as you did (don't worry, you can keep them private too), so the friendly rivalries can thrive. There's more info coming about that in the very near future…
We've made significant investments in equipment, storage and aesthetics as well. You've already seen some of that process begin with the newly painted brick wall and the bathroom art with hangers (!!), but more is ordered and on the way! Better equipment, better layout, better socially-distance space optimization, and even more COVID mitigation efforts (to be talked about later).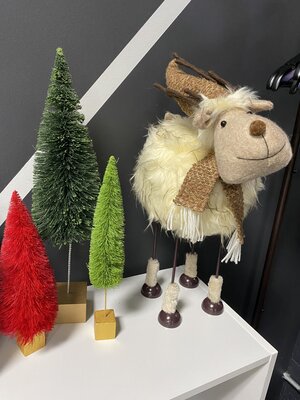 January 11th will begin our next global assessment cycle, which will have been 3 months since the last one. Let me say this immediately: Retest every category. Level yourself down. It's fine. We, as a coaching staff, need this information so we can serve you as well as you deserve.
At the beginning of the year, our rent will increase for the second year in a row and costs of operation have gone up generally the past two years. So in March, membership rates are going to jump up $6/mo. You can get an exemption though! If you set up ACH through your bank, you can insulate yourself from that. Just ask how to get that set up and we'll make it happen; it's painless and saves us a lot on credit card fees, so that balances a lot.
We are in negotiation with a 24/7 service provider, but I'm on the fence about the idea for a variety of reasons. If you have any feedback about the value that would bring to you, please let me know. It seems like a good idea in theory, but I'd love any thoughts from you guys. It would cost a little extra ($10?), just for some frame of reference.
Lastly, a HUGE development is going to be completed: Storefront parking. =) It'll be metered, but man, not having to walk a city block to get to the gym will be a nice change!
We're excited about everything The Standard has become and we're anxious to continue to make it better and better for all of you. Last reminder… FOLLOW THIS LINK and get some discounts from The Community Coalition!
Happy Thursday!
Your Standard Team.